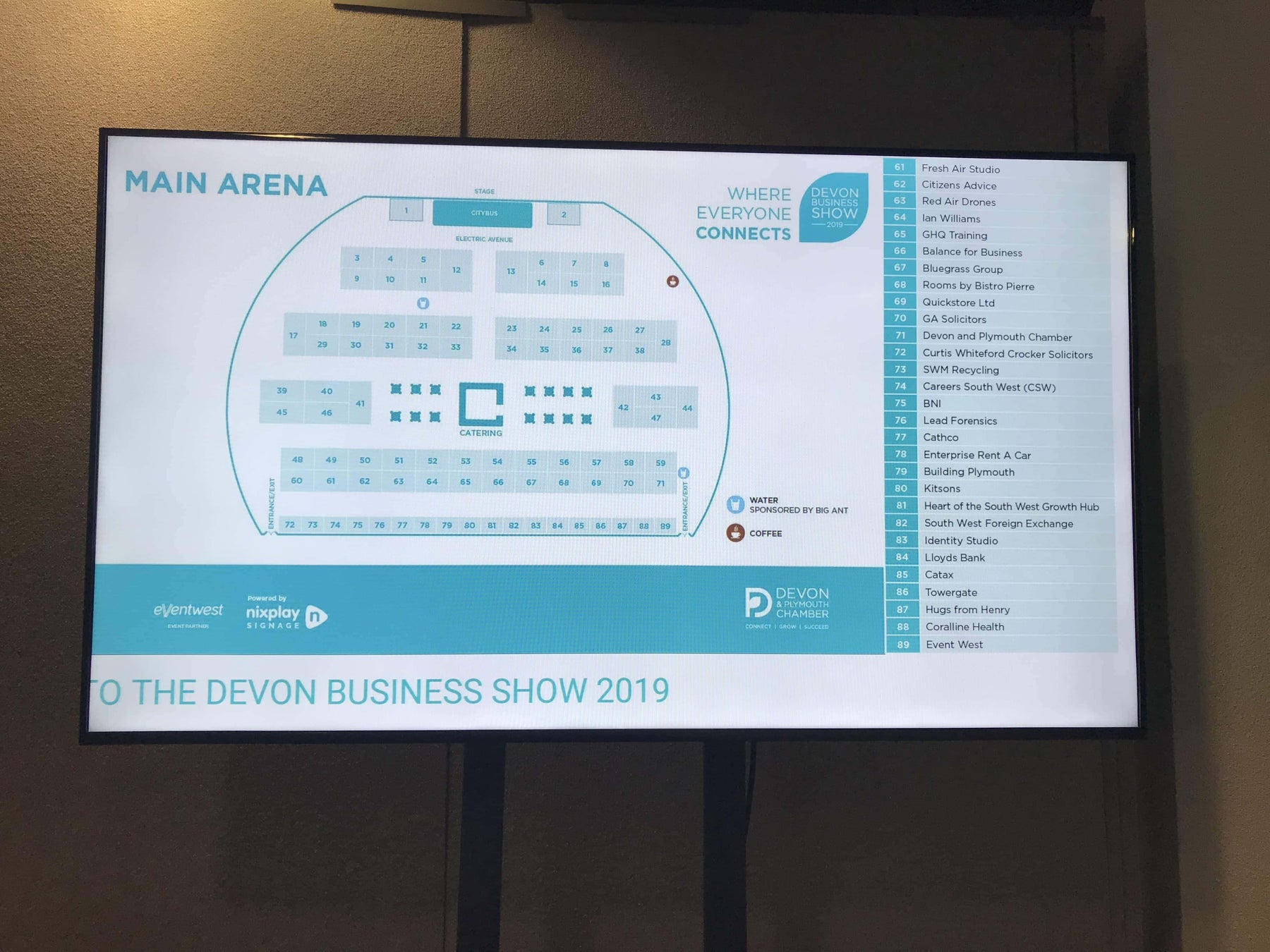 Nixplay Signage made its debut at the Devon Business Show 2019, where businesses of all sizes and from all industries can showcase their products and services, access information and expert advice, and network held on June 12 at the Plymouth Pavilions in Plymouth, United Kingdom.
Not only was the Devon Business Show a great opportunity for Nixplay Signage to meet with various business, our clients, and our partners, we were able to support the event by providing digital signage displays to support wayfinding, an exhibitor directory, and special show event details, including descriptions, schedules, and locations.
A Nixplay Signage 43-inch display providing event map and exhibitor locations 
A Nixplay Signage 32-inch display providing event details at the main cafe
In addition to contributing to the event with our digital signage solution, our Nixplay Signage team also met with clients and demonstrated our out-of-the-box signage solutions to businesses and professionals that met our team or stopped by our stand.
Denise Kehoe, Nixplay Signage Senior Sales Manager
Attendees that visited our stand received a free demo and also entered into our lucky draw to win a 15.6-inch display and a 1-year Advanced Subscription plan.  
We would like to thank all Devon Business Show attendees for taking the time to learn more about us. We are delighted to award the 15.6-inch display and a 1-year Advanced Subscription plan to The Duck Company UK, a brand specializing in delightful, decorative birds and ducks handcrafted from sustainable bamboo.
Visit the Devon Business Show website for more information.
If you are interested in a free demo or to learn more, please contact us to get started.