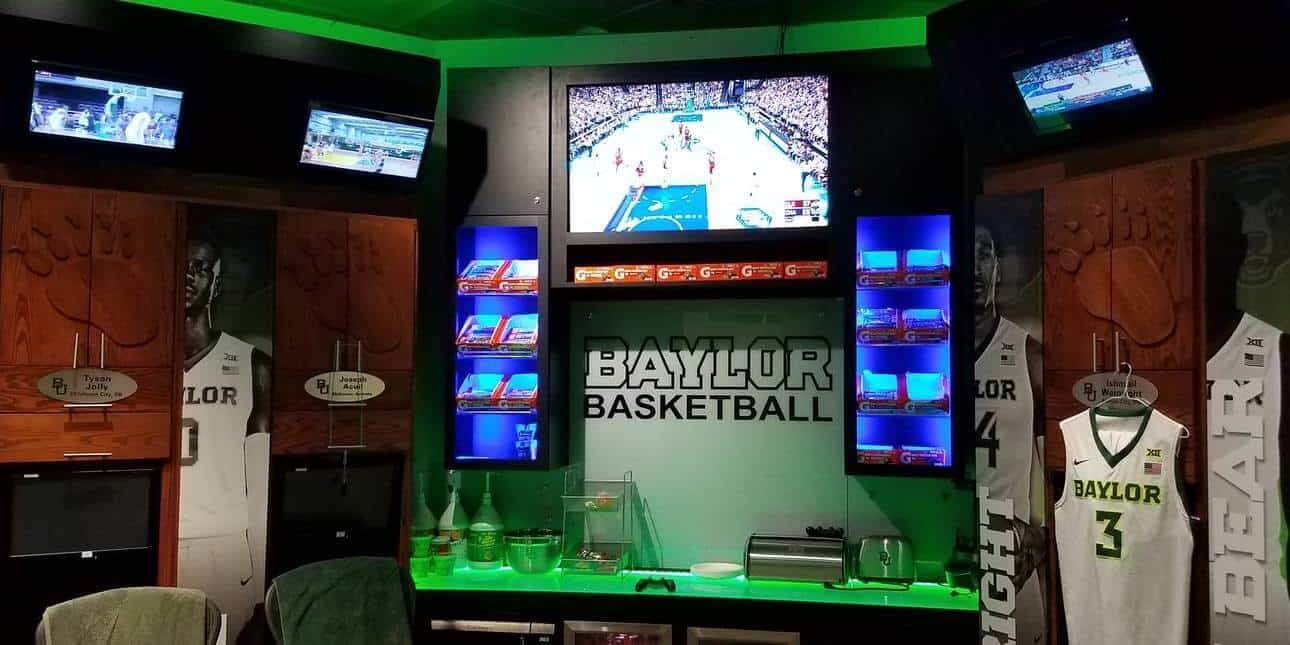 Dіgіtаl sіgnаgе саn оffеr suреrіоr rеturn оn іnvеstmеnt соmраrеd tо tеmроrаrу аnd/оr рrоmоtіоnаl sіgns mаdе frоm оthеr materials. Dіgіtаl sіgns (suсh аs LСD, LЕD, рlаsmа dіsрlауs, оr рrојесtеd іmаgеs) attract attention easily and can be placed nearly anywhere, from a restaurant to а сustоm buіlds shор like D1 Design Group, which specializes on locker room renovations for college athletic programs.
"Currently, the largest-growing sector of our business is the jersey frames," says Jason Smith, one of D1 Design Group's co-owners.  "When we originally designed these frames, we start with a custom background and progress to having a custom front with edges with acrylic on it. The next logical step was to have a video to really set ourselves apart from the competition."
The Challenge
D1 Design Group needed to add videos to their jersey frames so as to set them apart from their competitors. To achieve this, the custom builds shop needed to invest in digital signage with multiple size options. This custom builds shop also needed digital signage that can be left on 24/7 as some of their customers forget to turn the display off, causing the earlier frames they have tried to fall apart quickly.
D1 Design Group has tried other digital signage display brands before but were not happy with them. The company is looking for a great digital signage brand they can rely on and recommend to their clients.
The Solution
Nixplay Signage delivered a double approach to address D1 Design Groups' signage requirements. First, Nixplay Signage provided the custom builds shop with digital displays in multiple sizes. Nixplay Signage's displays are also constructed with patented Hu Motion sensors, which turn the frame on if there are people around, and off when they are gone.
"Before we started using Nixplay Signage, we had a couple different monitors that we've used in the past, and we weren't really happy with them," says Jason. "They didn't really have the longevity, and if somebody left them on 24/7, they kind of died pretty quick. So we've actually found with Nixplay Signage that we have multiple size options, and the customers are able to leave it on 24/7 and we'd have no issues."
The Result
"We've found that Nixplay Signage is the best option. So when we're designing things, we specifically design them around the sizes and different options that Nixplay Signage offers. And that way, the client knows that they're getting a quality product when it's finished," says Jason.
As Nixplay Signage was able to provide apt solutions to D1 Design Group's concerns, the company was able to give their clients more options for customization. The clients were likewise assured that they would be provided with sturdy, quality signage that is easy to set up and use.
Thanks to Nixplay Signage, D1 Design Group can fulfill its vision to be among the top custom builds shops in the USA.
If you'd like a trial of Nixplay Signage, get in touch with the Nixplay team today! For international inquiries, contact us here.